Gloucestershire Basketball Association
Annual General Meeting
Thursday 16th June, 19.30
Churchdown Club, Church Street, Churchdown.
Agenda
Apologies
Minutes from AGM 2021, Approval/Matters Arising
Presentation of Accounts 2021/2022
Finals Day RoundUp
Re-election/election of officers
League Format 2022/2023
League Entry Fees/Arrangements
Constitution/Rule Changes
Entry Requirements:courts, table officials and Referees.
Registration Process
GBBA and Glos League Web and social media strategy.
Integration of CVL, schools development program, wheelchair basketball, WBBL and NBL competitions across the GBBA area.
AOB
Note each team should provide two representatives one of whom should be the team secretary.
Minutes from the 2021 and a copy of the accounts can be obtained from the GBBA website. Please print your own copies as they will not be available on the night.
At this time no amendment to rules or constitution have been submitted from teams.
All current committee members are standing again.
Food: please note the venue will not be able to provide food on the evening however there is a rather nice pizza van parked outside. I am happy to arrange for a delivery to be made.
Specific likes/dislikes/allergies/declines to Ian please by 9th June.
Finally The fundraising team from Cots for Tots have sent through their sincere thanks for the amazing amount raised again this year which they will add to our running total.
Next season Cup competition funds will once again be shared between Cots for Tots and a second Charity.
Before the 22/23 completion starts I will circulate an invite to clubs to nominate a charity close to the heart of one of their players as we have done previously.
Kind Regards
Isobel Greaves
Chair
Gloucestershire Basketball Association.
Congratulations to Gloucester City Kings who ran out winners of the exhibition match against the GBBA All Stars by 80 - 48
600 Stroud Sharks 73 - 65 Malvern Mavericks.

Stroud Sharks held off Malvern Mavericks in a close fought cup final to win the 2021/2022 John Llewellyn Handicap Cup.
650 Warriors 46 - 50 Gloucester Knights

Many congratulations to Gloucester Knights for their narrow victory over the Gloucester Warriors, earming them the 2022 Dexter Dawson Charity Cup title.
Don't forget this Sunday is the GBBA Finals Day at the Sports Academy, Hartpury University & College, GL19 3BE.

Fist matchs tips off at 10:45.
Want to know all about what's going on during the Finals Day?

Download the programme by clicking on the image below ...


315 Worcester Cyclones 74 - 67 Warriors

403 Cheltenham Eagles 68 - 55 Gloucester Old Spots


Contact Ian greaves ianhgreaves53@gmail.com if interested.

Hurry, places are limited to only 8 teams.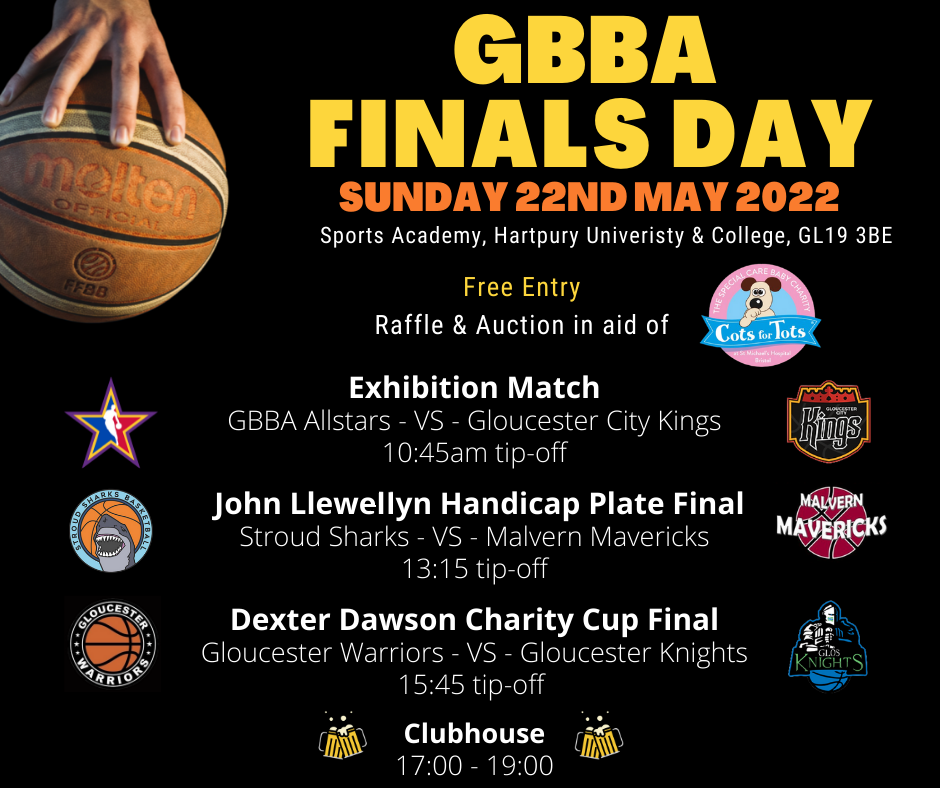 406 Malvern Mavericks 95 - 56 Worcester Cyclones
347 Worcester Cyclones 74 - 65 Stroud Sharks
502 Gloucester Knights 80 - 44 UoG Raiders
405 Malvern Mavericks 44 - 62 Gloucester Old Spots

552 Warriors 55 - 46 Cheltenham Hawks

With Warriors winning both of their matches against Cheltenham Hawks, match 553 will no longer take place.
404 Worcester Cyclones 125 - 92 Cheltenham Eagles

452 Cheltenham Falcons 40 - 100 Stroud Sharks
307 Worcester Cyclones 63 - 103 Malvern Mavericks

501 UoG Raiders 62 - 67 Gloucester Knights

551 Cheltenham Hawks 42 - 54 Warriors